Paying and communicating through Rover is not only a requirement in our Terms of Service, it also protects you and the pet owners. Here's how:
Safe and secure payments

. Our payment platform is designed to protect credit card and personal information through standard encryption measures. Paying through Rover is cashless, convenient, and keeps your personal details safe and secure. Accepting payments or paying outside our system can put you at risk for fraud.

Simple and effective messaging

. When you communicate with pet owners through your Rover account, you have the peace of mind of our built-in security features. Plus, it's easy to use, you can book services, work out stay details, schedule Meet & Greets, and get paid securely, and share photos, all through your Rover account.

The Rover Guarantee.

When you book and pay through Rover, you're covered by the Rover Guarantee, that's peace of mind for sitters and pet owners alike.
Rarely, some people may choose to use our system to take advantage of pet owners or sitters. If you receive a message you think is suspicious, or someone asks to pay or communicate outside of Rover, report the conversation and let us know. You can report messages as inappropriate right when you receive them by selecting this button: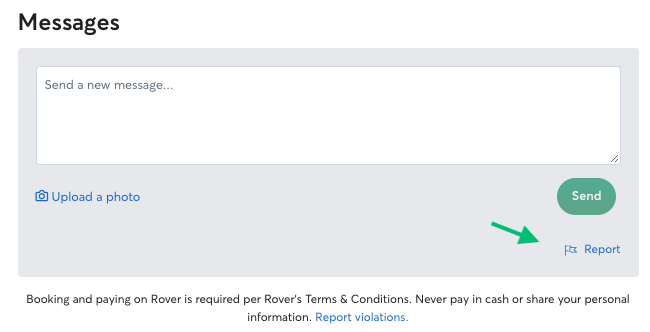 You can also contact us any time if you're unsure, and we'll help you through it.
Have questions? We're here for you! Contact Rover Support at +448082812524. Or, submit a help request by navigating to the bottom of any page in the Help Center and selecting Contact Support.