On Rover, you can book:
Boarding:

Your pet stays overnight in the sitter's home.

House Sitting:

Sitters watch your pet overnight in your home.

Day Care:

Drop off your pet at your sitter's home in the morning and pick them up in the evening.

Dog Walking:

Your dog gets a 30 or 60-minute walk around your neighbourhood.

Drop-In Visits:

Sitters stop by your home for 30 or 60 minutes to feed and play with your pet.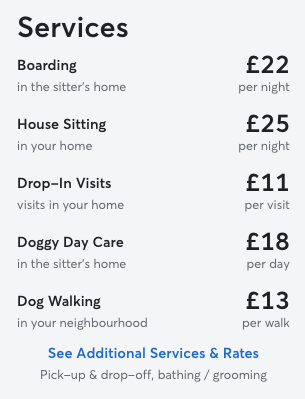 (the rates in this screenshot are examples and may be different for each sitter)


Rover offers sitters and pet owners the flexibility to customise their experience for each service. You and your sitter or dog walker may agree on something different, depending on your pet's needs. Before booking a stay, we recommend communicating those expectations ahead of time with your sitter or dog walker, so you're both in agreement on the type of care your pet will receive.
For more information about the length of time covered by a sitter's service, visit this article.
Here are some tips on how to find and book a great sitter:
Browse sitter profiles.

Read reviews from other pet owners like you

Contact a few different sitters who seem like a great match.

Schedule a Meet & Greet to learn more about them. If you both agree it's a good fit, book and pay through Rover.