So, you've found a great sitter or dog walker on Rover and want to start a conversation. Here's how to get the ball rolling:
1. Go to the sitter's profile and select the Contact button. (If you're using the Rover iPhone app, select contact this sitter. On the Android app, select the pencil icon.)

2. Fill out the pop-up form. Include which service you'd like to book, as well as the date range, your dogs, time of service, and a message for the sitter.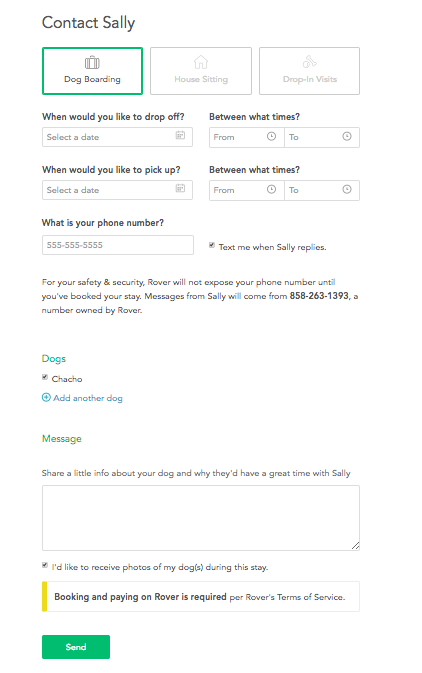 Note: To protect sitter and dog walker privacy, we don't provide personal contact information until a service is booked. Plus, you can send all your messages through the Rover site or app, even after your stay is booked—it's that easy.
3. Call or text the sitter or dog walker using their Rover number. Rover numbers allow pet owners and sitters to call and text each other while keeping their actual phone numbers private. Unique Rover numbers are assigned to each pet parent/sitter relationship.
4. Ask the sitter or dog walker to schedule a Meet & Greet. That's your chance to get to know them in person and make sure they're the right fit for you and your dog.
5. After a successful Meet & Greet, either you or the sitter can select Book It Now from your conversation on Rover. Once both you and the sitter or dog walker have accepted, the service is booked.
Booking through Rover not only keeps your account in line with our Terms of Service, it also gives you 24/7 support, the Rover Guarantee, and a secure, convenient way to pay.
Take a look at our Meet & Greet Checklist for Dog Owners and related articles about booking and payments to learn more.