COVID-19 UPDATE:
Here at Rover, our top priority has always been the safety of our community. During these current times where extra care and vigilance is required, we ask that you consider whether you are still able to provide your Rover services without the risk of spreading germs to others.
For instructions on how to cancel a booking, read the article below. If you encounter any issue as you cancel a booking, feel free to reach out to us using our Contact Support form below and selecting the option Booking > Canceling a booking.


We encourage you to only take requests you can accommodate to keep cancellations rare and your pet care services booming. However, if you do need to cancel a booking, we offer all the tools you need to make it happen smoothly.
First, contact the dog owner to let them know. Then, cancel the service within your Rover account:
How to Cancel a Service Before It Begins
1. Navigate to your Inbox by selecting the envelope icon.

2. Select the Upcoming Stays tab and then select the request you want to cancel.

3. Once the booking is open, locate the gray box that lists the service details. Select Cancel booking.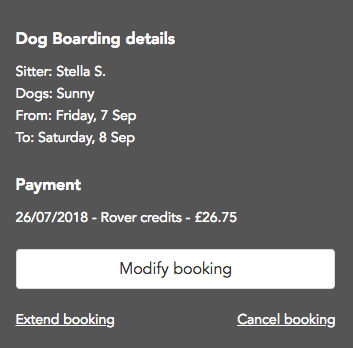 4. Select a cancellation reason and include details about why you're canceling. This message goes directly to Rover Support and will not go to your pet owner. Select Submit Request.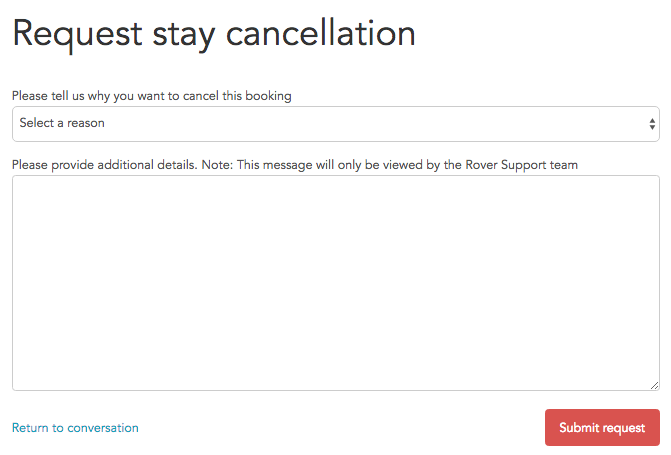 6. Select Yes, I want to cancel to cancel and refund your pet owner.

Important: A pattern of of short-notice cancellations may result in account review.
Have questions? We're here for you! Contact Rover Support at +448082812524. Or, submit a help request by navigating to the bottom of any page in the Help Center and selecting Contact Support.