How do I exercise my rights under GDPR?
At Rover, we're committed to safeguarding the privacy and security of our community.
The General Data Protection Regulation (GDPR) guarantees EEA and UK residents the right to the protection of their personal data. For more information about how we collect, use and share your personal data, please refer to the Rover Privacy Statement.
Under the GDPR, EEA and UK residents who are Rover users have several rights related to their personal data. The three rights Rover users request most often are:
Make corrections to personal data (Rectification).

Delete personal data in certain cases (Data Deletion).

Access personal data that was collected by Rover (Subject Access Request).
If your request includes one of these actions from the list above, please send us an email.

Managing Your Privacy on Rover
Here are some other ways you can exercise your rights under GDPR:

Unsubscribe From Marketing Emails
Note: If you opt out of marketing emails, you will still receive transactional emails like booking confirmations.

To stop receiving all marketing communications from Rover,

click this link

.

Enter your email address, then select Unsubscribe

.
Manage Your Notification Preferences
To limit email or text notifications for messages sent through Rover, check out this article.

Deactivate Your Account
If you want to deactivate your account, check out this article. Deactivating your account will ensure that your profile is no longer visible to others on Rover, but will still allow you to view your booking history.

Make a Correction to Your Information
Just need to update your address, phone number or payment card? Follow the steps in this article.


Opt-in or Opt-out of Cookies
You may opt in or opt out of non-essential cookies at any time. Simply go to our Privacy Statement and click the "Privacy Management Center" button as shown below.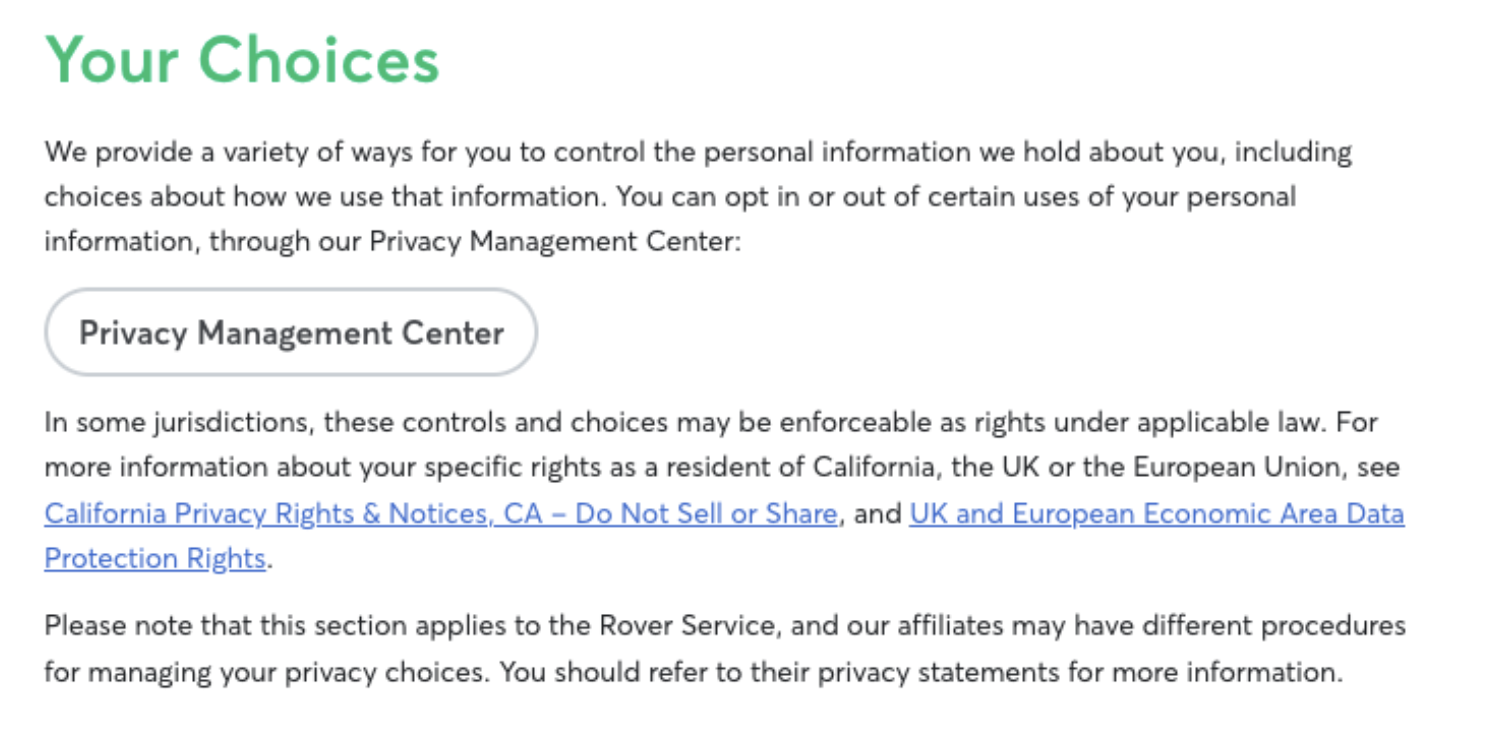 Use the toggles to opt in or out of different types of cookies. Click on each header to learn more about that cookie type and to see what cookies we use. Note that you cannot disable "Strictly Necessary" cookies, as they are essential to the functioning of the Rover site.


Corporate affiliates
We may also share your personal information with our corporate affiliates, as outlined in our Privacy Statement. Some of these affiliates may have separate privacy statements. Our corporate affiliates, and their respective privacy statements (if applicable) are listed below: