Keeping your calendar up to date is an important part of managing your pet care services on Rover. It'll help you receive requests you can accept, and the more requests you accept, the better your booking rate will be, and the better your booking rate, the more likely it is that pet owners will choose you as their next sitter.
In this article, we'll talk about using Rover's calendar feature to manage your availability for specific dates and services.
Pro tip: You can sync your calendar to Google calendar or iCal! To do this, select Sync your calendar below your service availability.
Calendar basics
Your services are automatically colour-coded, so you can see your availability at a glance. Each day of the month shows what services you offer, how many bookings you have, and how many pets you can book. For example:
If you're willing to board 2 pets on Tuesdays, and have 2 pets booked, you'll see "2/2 booked" on Tuesday.

A slash will display if you've marked yourself as unavailable for all services.
How do I edit my availability for a specific date(s)?
To update your calendar once, like you would for a holiday, do the following:
Web:
1. Select the day you want to edit on your calendar, or click and drag your mouse to edit multiple dates at once.



2. A pop-up window will appear. You can choose to edit each service individually and select Save. Or, if you won't be available for any services, just select Mark all services as unavailable. To reset the number of spaces you have to your default number of spaces, select reset to default.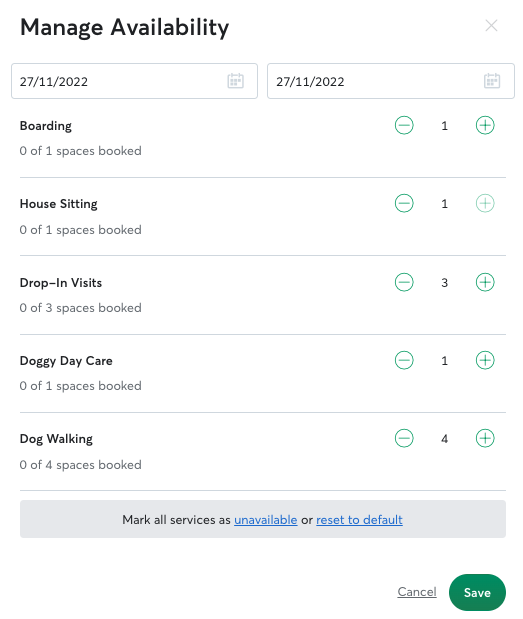 3. Your edits will now reflect on your calendar.


Note: Changes you make to your calendar just once will always override changes you make on a recurring basis. That way, if you usually offer dog boarding on the weekends but leave for a holiday, you won't accidentally appear as available for the one weekend you'll be out of town.
Rover app:

To edit your availability from the Rover app:
Tap Calendar.
To edit a specific day, tap the date you need to update, then select Edit my availability. From here, you can edit capacity and availability.
To edit availability for multiple consecutive days, tap the start and end date, then select mark the dates as available or unavailable.
When you're finished editing your availability, select Save changes.
Note: You can only edit capacity for one day at a time.


Your calendar view in the Rover app will show different colours and textures depending on bookings and availability. Here's how to read the calendar: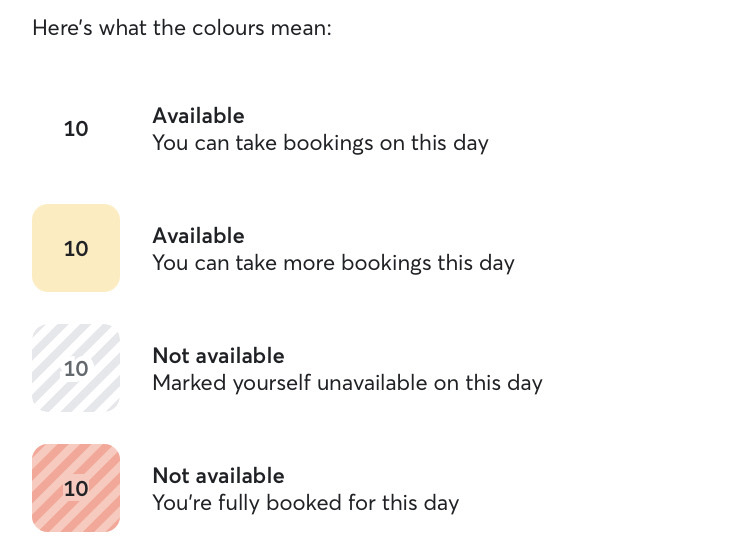 White: Fully available (with 0 bookings)




Yellow: Partially booked




Red: Fully booked




Grey, diagonal slashes: Unavailable




How do I edit my ongoing availability?
To update your availability on a recurring basis, like you would if you only offer services on certain days, do the following:
1. Navigate to your calendar by selecting your name in the upper right corner of the screen. Select Calendar.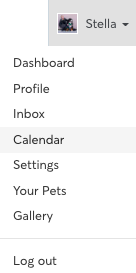 2. On the left side of your screen, select the arrow next to the service you're updating.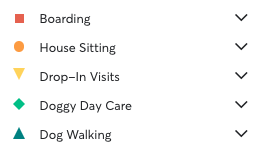 3. Check or uncheck the boxes as needed. When a box is checked, that means you're available to offer that service on that day, on a weekly basis.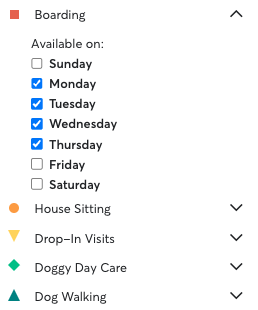 If you are using the Rover app:
Open the app.

Tap the Calendar icon.

In the upper right corner of the screen, tap the gear icon (iOS). For Android, tap the three-dotted icon, then Settings.






For the service you would like to update, tap

Daily availability.





Tap the usual days and times that you will be available.




Note: If you frequently don't book requests you receive for days you're available, some of your services may be automatically set to Away mode. This is why it's important to keep your calendar up to date.
What else can I do with my calendar?


You can sync your Rover calendar with iCal or Google Calendar to view upcoming requests, stays, and Meet & Greets.
Web
Navigate to your calendar by selecting your name in the upper right corner of the screen. Select Calendar.

Select

Sync your calendar on the left side of the page.



To look at a different month, select the left and right arrows near the top of the calendar. You can always jump to today's date by selecting Today.

App
Tap More.
Tap Profile.
Tap the pencil icon, in the upper right corner of the screen and scroll down.
Tap Calendar. Scroll down.
Tap Sync your calendar.
Select what you want to sync, then tap Add to iCal or Add to Google Calendar.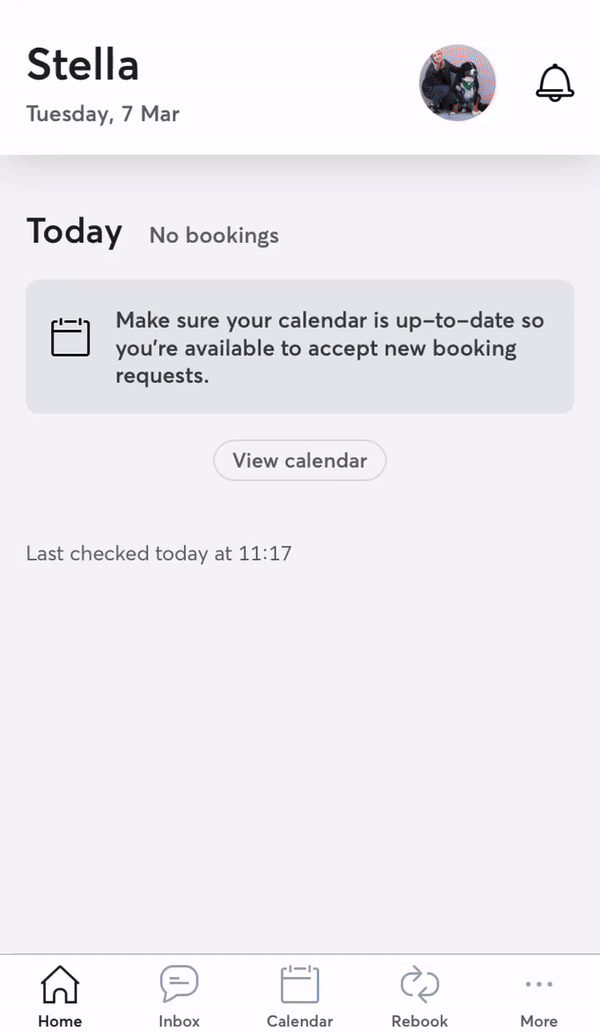 Related Articles
How do I hide a service from the search when I'm away?
Can I change my settings to sit for repeat owners only?
How do I change my availability and the number of pets I can sit?
What is confirmed availability and how does it work?